If you're planning a trip through Arizona in August, the state park system there has some special programs they're inviting you to. From Native American history explorations to learning more about the natural world, here's a rundown of events.
August 9: Meet Our Wild Neighbors, Tubac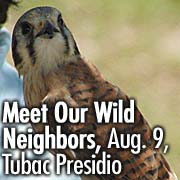 Tubac Presidio State Historic Park hosts this natural history program featuring live animals from the Arizona Sonora Desert Museum. Here's an opportunity to get up close to some of the wild creatures of the Sonoran Desert and learn about desert ecology. Desert dwellers have the privilege of living in close proximity to many plants and animals that may be unfamiliar or even scary. Desert Museum educators will teach the living habits and ecological roles of tarantulas, snakes, bats, bobcats, coyotes, raptors and more. They'll work to dispel some myths and offer practical guidance for how to accentuate the positive and minimize the negative encounters with our wild neighbors.
The program features live animals that may include reptiles, birds, mammals and insects. We won't know which critters will be visiting the Presidio until they arrive that morning. Be ready to make new discoveries about the unique and wonderful Sonoran Desert. Be sure to bring a hat, sunscreen and plenty of water. Admission for this event is $7.50 adults, $4.50 youth 7-13, children under 7 free, and includes admission to tour the Park grounds and museum. Program begins at 10:30 am.
August 11: Suvoyuki Day at Homolovi; August 12: Suvoyuki Day at Sipaulovi Village, Second Mesa
"Suvoyuki" in Hopi language means to accomplish work through at "joint effort." Suvoyuki Days start with an open house day at Homolovi State Park that celebrates the partners who have helped to protect and save Homolovi area archaeological and cultural sites from destruction. The event features corn roasting, archaeological information, and artist demonstrations. \
The next day, the event moves into the community at Sipaulovi Village where visitors can see meet artists and learn more about the Hopi tribe. Hopi Tribal leaders and Arizona State Parks staff have been collaborating to create a new model for park management and tourism to traditional Hopi lands which will preserve and protect the sacred culture, while offering special cultural tour opportunities for the public.
August 11: Learn Your Lizards With "Wild Man" Phil at Boyce Thompson Arboretum State Park, Superior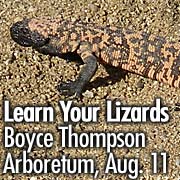 Casa Grande reptile enthusiast "Wild Man" Phil Rakoci invites kids and adults who enjoy Arizona's most common, colorful and charismatic little reptiles to Learn Your Lizards on a Saturday guided walking tour. Preview the outing by watching a brief Lizard Walk video by Arboretum volunteer and videographer Mike Rolfe. Program begins at 8:00 am. Can't make it? Another class happens September 8.
August 18: Arizona Rough Riders, Living History Presentation at Riordan Mansion State Historic Park, Flagstaff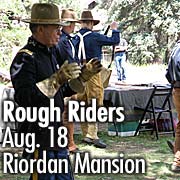 The Arizona Rough Riders is a commemorative group that brings the Spanish/American War era (1898) to life for audiences. Dressed in authentic costumes of the famous Rough Riders and their ladies, and carrying 100 year old weapons for the public's examination, the Arizona Rough Riders describe the era, the war, the effects, and the social mores of early-20th-century America. The Rough Riders are the most famous 'all volunteer unit' in the history of the U.S. Military. This event is free to the but does not include tour admission for Riordan Mansion. Runs 10:00 am - 4:00 pm.
August 18: Prickly Pear Cactus Fruit Class at Boyce Thompson Arboretum State Park, Superior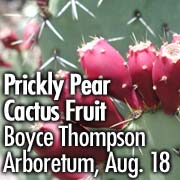 Apache Junction author Jean Groen teaches participants to harvest these juicy, seasonal fruits of the Sonoran Desert at Boyce Thompson Arboretum SP. No pre-registration is necessary; Jean's prickly pear class is included with daily admission of $9 for adults or $4.50 for ages 5-12. Jean and her prickly pear picking accomplice Robert Lewis teach participants techniques to harvest these juicy, seasonal fruits, how to safely de-spine them, juice, process and preserve the fruits. There's no pre-registration for this popular workshop, which lasts about an hour -- and ends with a chance to sample prickly pear snacks; last year the menu featured prickly pear-banana-yogurt-pineapple smoothies! Workshop begins at 10:30 am.